WHAT IS DISCIPLESHIP?

It's not about rules or religion.
Discipleship is all about relationship.
Discipleship is the lifelong process and journey in relationship with Jesus/Yeshua, and with each other.
As followers of Christ (Messiah) we are all called to go and make disciples.
We can help you be and make disciples
who make disciples
….
.
HOW MISSION DISCIPLESHIP CAN HELP YOU:
On our website are FREE bible studies on a variety of topics.

You can use our resources for one-on-one, family, or group discipleship.

Plug into our FREE guided program and we'll equip, mobilize, and hold you accountable too.

We can help you cultivate a one-on-one discipleship relationship, or lead small group studies in your home, or congregation.

Our email series on discipleship topics will educate and inspire you.


When you become a Mission Discipleship regular financial partner you can request access to our video library of 10,000+ Bible Study Videos from over 150 leading Christian publishers and ministries. You can use these biblical teachings to build yourself and your family up; or use them in your Sunday school, home group, men's group, women's group or youth group.
SIGN UP BELOW TO RECEIVE MORE INFORMATION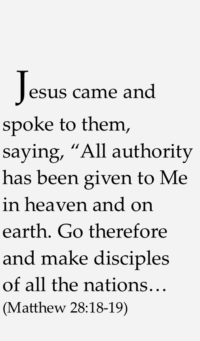 WHAT'S A DISCIPLE?
In ancient Israel a disciple was someone who wanted their walk with God to be like their rabbi's.  The disciple's main desire was to be just like their rabbi. It took passion and dedication to be a disciple.  It's the same today. 
Are you a true disciple of Christ/Messiah's?  Let us help you.
WHY DISCIPLESHIP?
If we really Love God we obey His commandments
Being a true disciple is the pathway to blessing
Discipleship ushers in the Kingdom of God on earth
Mission Discipleship equips, inspires and mobilizes world-changers!
SIGN UP FOR OUR MONTHLY E-NEWSLETTER
and TO LEARN MORE ABOUT OUR DISCIPLESHIP PROGRAMS
OTHER WAYS YOU CAN LINK ARMS WITH US:
(CLICK THE LINKS BELOW)
. 
BE INSPIRED BY THE JOURNEY OF ONE OF OUR DISCIPLES
CHECK BACK OFTEN FOR NEW ENTRIES TO THE FAITH WALKER'S BLOG
Where were they going? When would she get to her destination? Would she arrive there safely? These were all questions that floated through her mind. With a stranger at the wheel of the vehicle she had to relinquish any sort of control of the situation. Ultimately she was being forced to trust God for her safe arrival.
read more